BBK Season opener vs Edon tonight at The Hanger! JV start time 6pm. Doors open at 5:15pm. Tickets available online
https://www.vancoevents.com/us/events/landing?eid=27207
See parking map attached. Reminder reserved seating section are for those who have purchased those seats. All GA seating is behind our team bench. Black Friday Sale: the Athletic Department will be selling old Ayersville uniforms ranging from $5-$20. Come get some authentic Ayersville gear!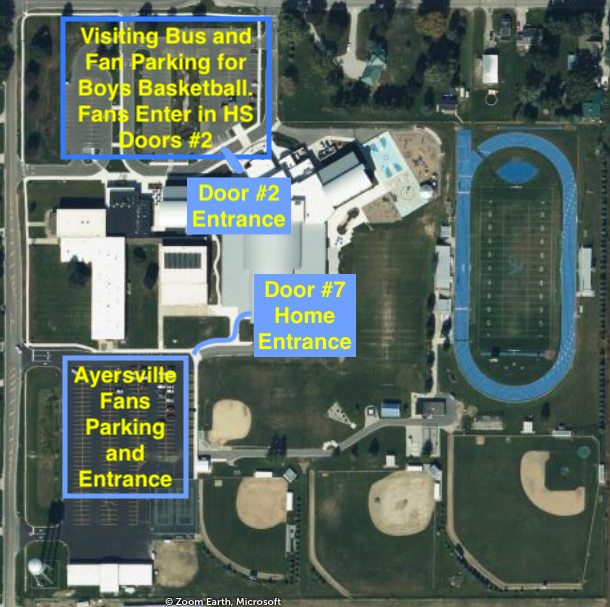 Due to unavoidable circumstances, tonight's Board of Education meeting will not be livestreamed. Thanks for your understanding in this matter.
Congratulations to Ayersville's Voice of Democracy winners- Brady Clark and Autumn Osborne! Every year the VFW sponsors this competition where students compete by writing and recording and essay about patriotism. #PilotPride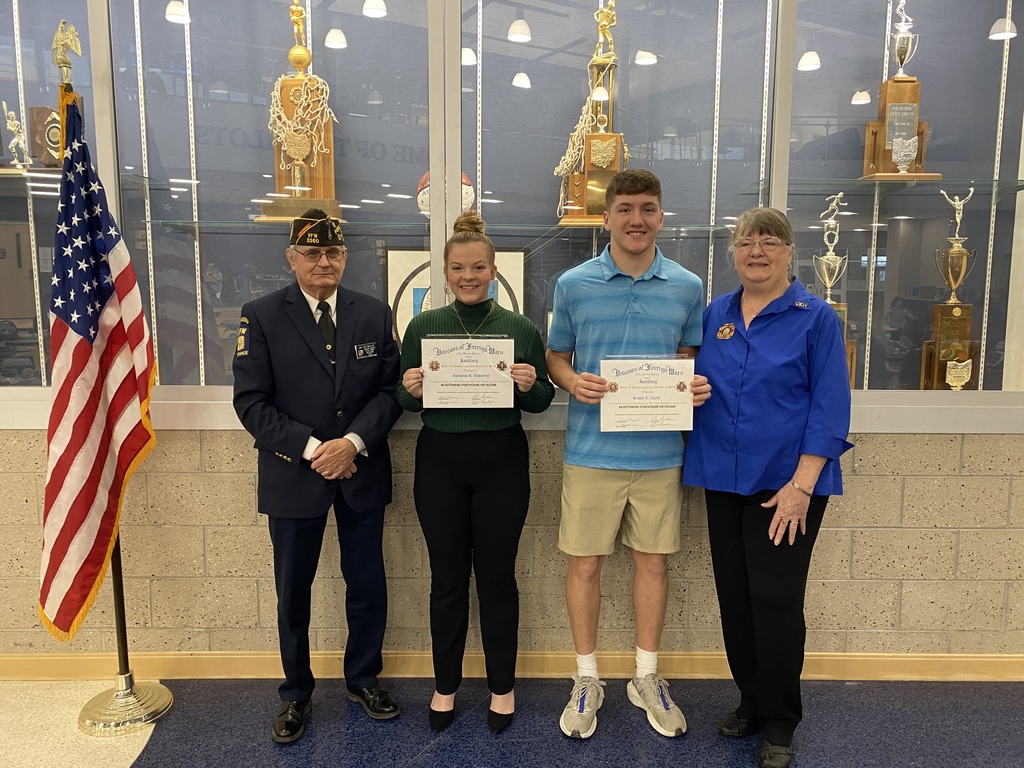 Winter Sports Season is starting this weekend with girls basketball at Fayette tomorrow with JV starting at 1pm. Check out the schedule below for upcoming athletic events happening next week! #GoPilots #GotYour6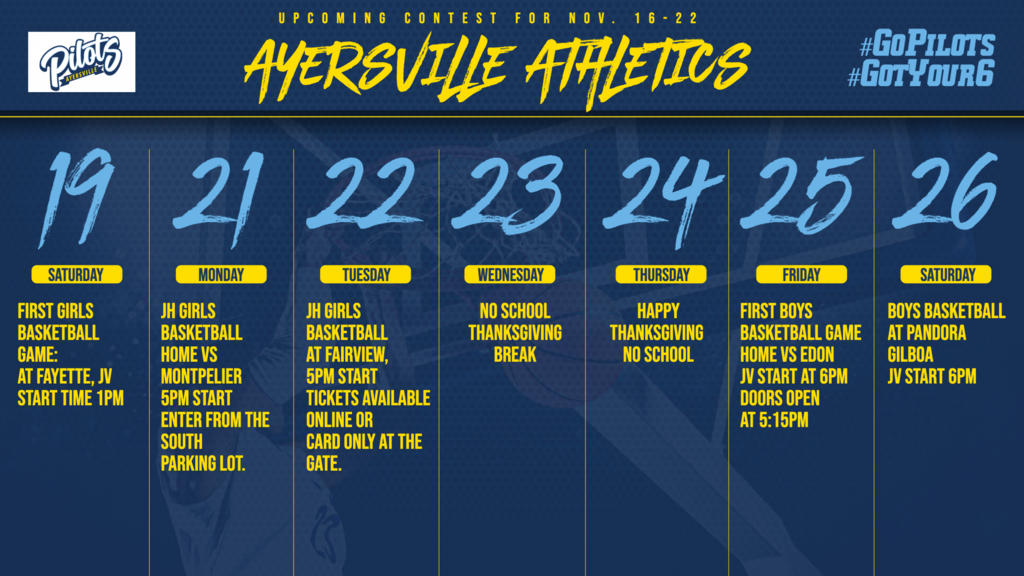 Thank you so much to all the families that booked a Christmas Mini session with the high school yearbook staff. We are diligently editing your photos and will send them to you by November 23. So far we have photographed 28 families and still have 6 scheduled for this Thursday. Thanks for your support!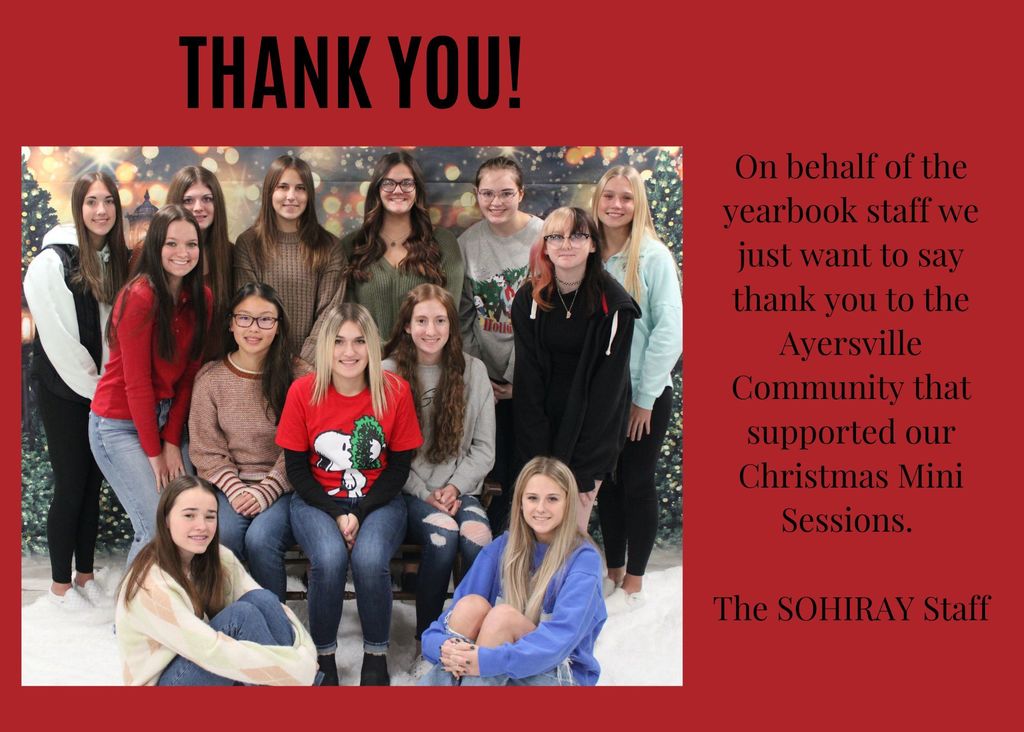 Reminder! Any students (currently grades 6-11)/parents interested in the College Credit Plus (CCP) Program for the 2023-2024 school year must attend our informational meeting on Nov. 28th at 5:30pm in the auditorium.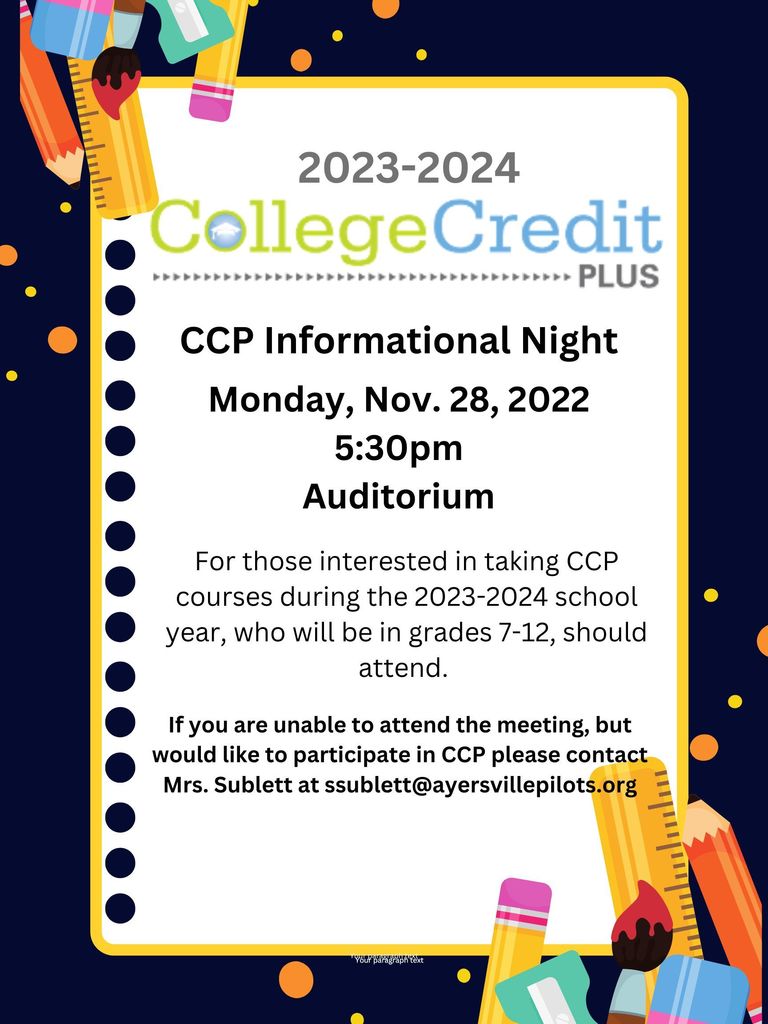 Senior English students recently finished reading and studying Seamus Heaney's "Beowulf." As a review for their test, they had to solve Anglo-Saxon riddles and use their knowledge of the epic and the English language to unlock the "buried" treasure.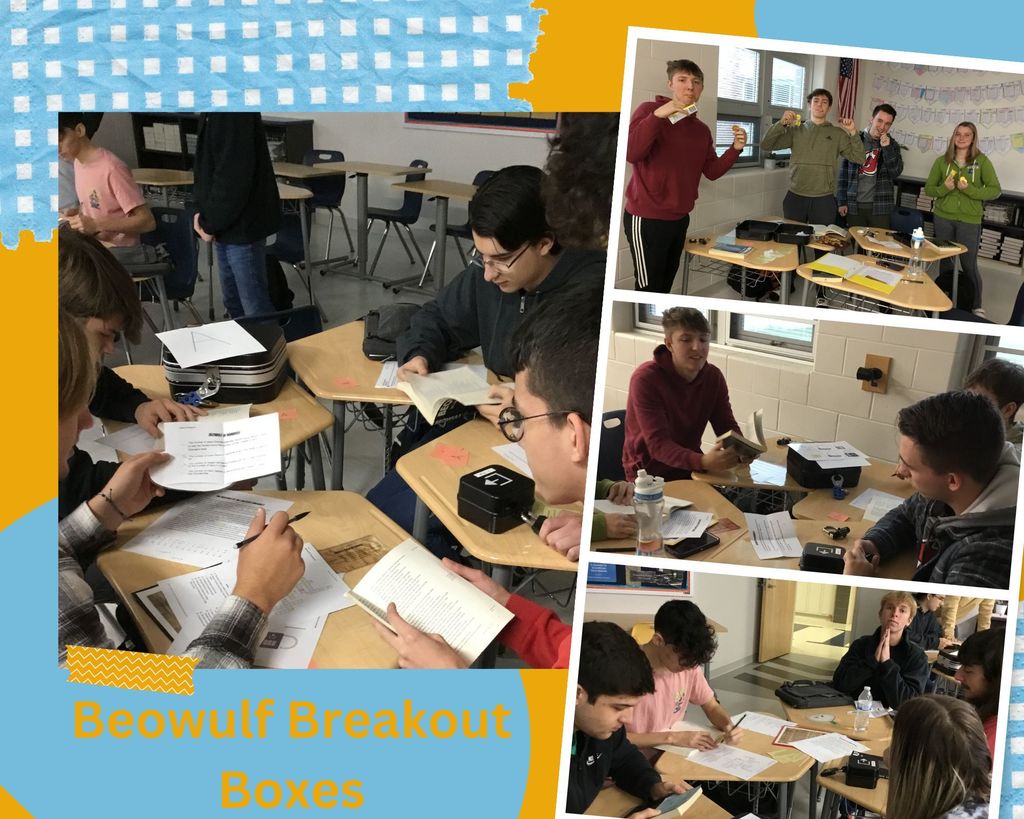 Have you heard? Ayersville Theatre will be producing the play adaptation of "Wizard of Oz" in Spring 2023! Students in grades 1-12 are invited to audition. No sign up required - stop by the auditorium to audition as a group with your age group. Want more info? See Miss Stehura in the choir room for a packet with all the details!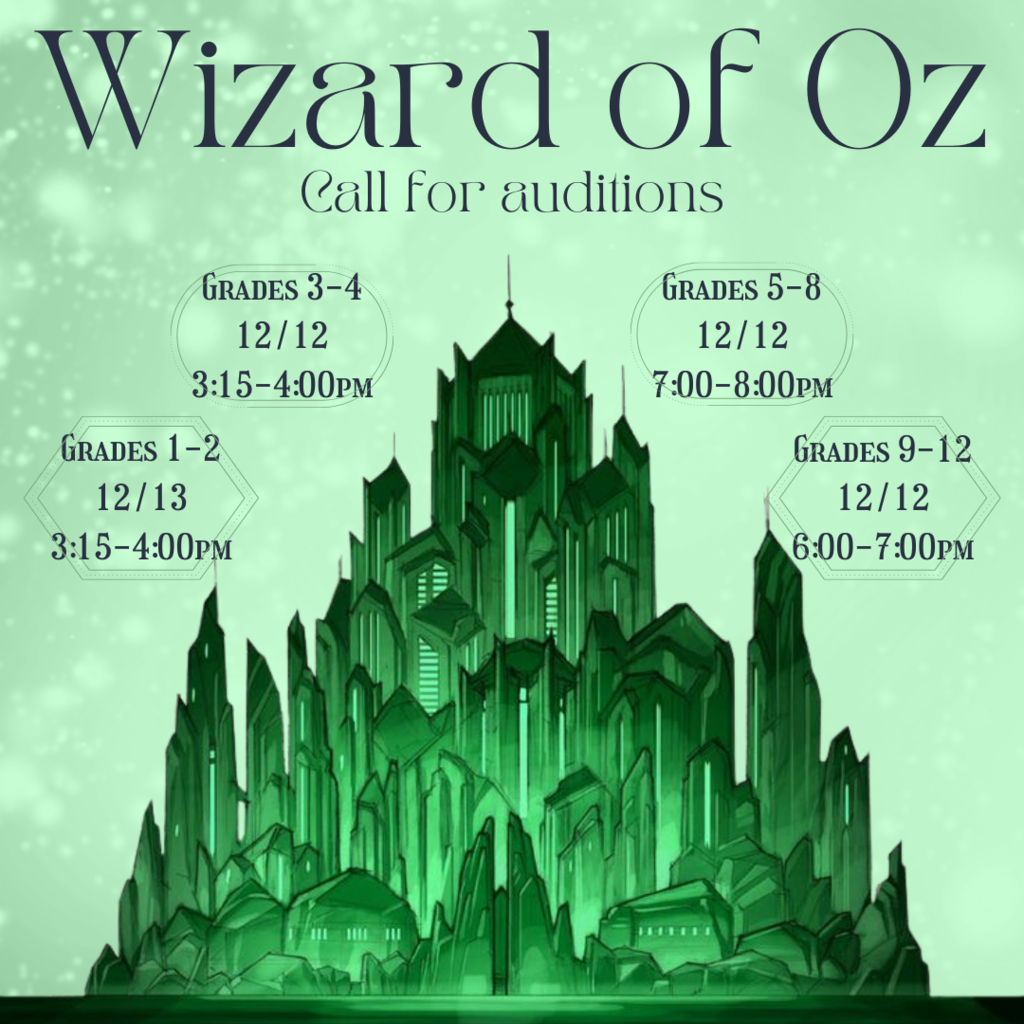 Boys basketball reserved seats will be on sale tomorrow Nov. 10th and Tuesday Nov. 15th from 4pm-7pm in the Athletic Office. Payment can be made by check or credit card. If you have questions contact the athletic office.

School fees are now past due. Please send in payment, or call the office to set up a payment plan. I will be available to take payments during parent/teacher conferences if that is convenient for you. Thank you, Mrs. Froelich

Reminder: Tomorrow (11/8) is K-12 picture retake day. If you would like your student's picture retaken, please return the original package.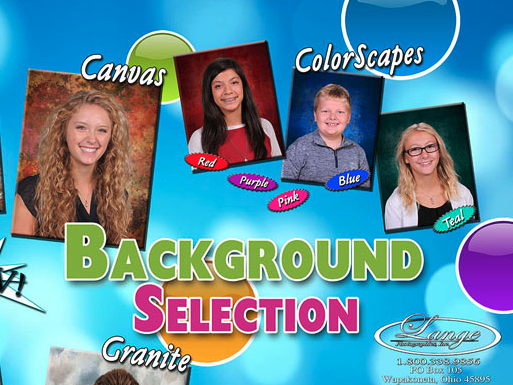 Check out the November Newsletter. Parent-Teacher Conferences start this Thursday (11/10) - details on signing up are included in the newsletter. Conferences are a great way to connect with your student's teachers. Newsletter link:
https://5il.co/1k9tj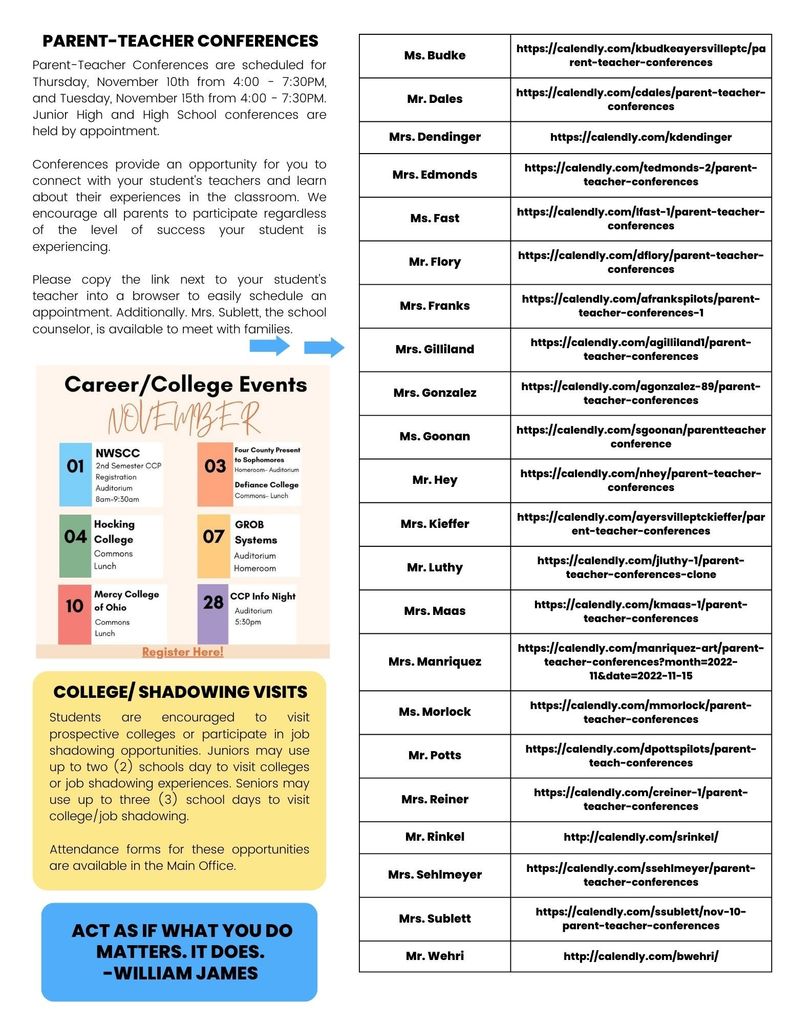 20-minute sessions 5 digital images for $25 10 digital images for $50 Images will be shared with you prior to Thanksgiving break. Any questions please contact Mrs. Arts at
aarts@ayersvillepilots.org
In addition to the two backgrounds pictured we will also have a white background and some props. Money is due the day of the photos. Cash or checks only. Checks can be written to Ayersville High School. All proceeds benefit the high school yearbook fund to purchase new equipment, go to conferences, or help defray the cost of our yearbooks.
https://calendly.com/christmasminis2022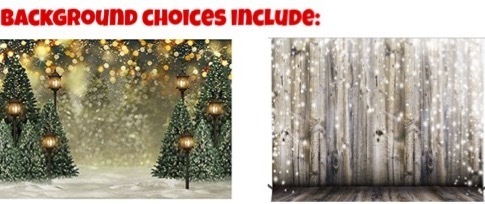 Christmas Minis are back by popular demand! The high school yearbook staff will once again be taking photos to raise money to support our yearbook fund. We will have a white background in addition to the two shown in the image. Props will be provided as well. All other details are on the image. We hope to see you for a session soon. Click on the link to book a session.
https://calendly.com/christmasminis2022/christmas-minis?back=1&month=2022-11

Due to continued dense fog remaining in the area, Ayersville will again be closed today (11/3). Enjoy the beautiful day - see you tomorrow!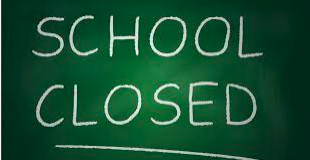 Good morning! Due to dense fog in the area today, Ayersville will be operating on a 2-hour delay today (11/3). Please be safe - we'll see you soon!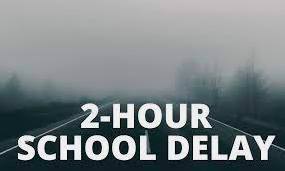 Please attend the CCP informational session Nov. 28th at 5:30 p.m. in the Auditorium if your student is interested in College Credit Plus classes and is in the 7th through 12th grade during the 2023-2024 school year. If you can't attend email Mrs. Sublett for more information.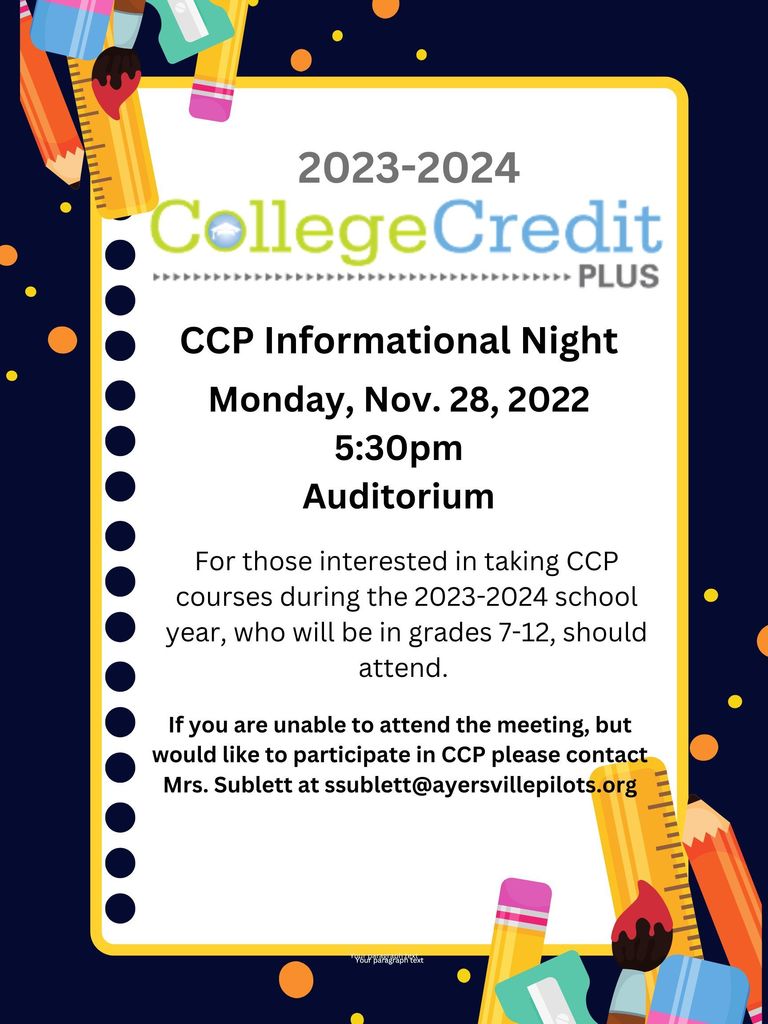 Due to continued patchy dense fog in the area, Ayersville will be closed today (11/2). Enjoy the day - we'll see you tomorrow!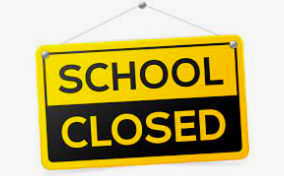 Good morning Pilot Nation! Due to patchy dense fog in the area, Ayersville will be operating on a 2-hour delay today (11/2). Please be safe out there - we'll see you soon!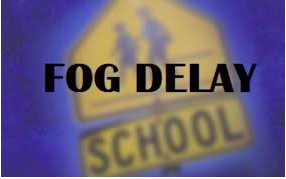 Tickets go on sale today! Ayersville Theatre proudly presents this year's Variety Show on Saturday, November 5 at 2pm. Featuring students in grades 5-12, we will have a variety of acts to fill your afternoon with comedy, music, and joy. Tickets are $10/adults, $8/students. vancoevents.com/us/eventlist/ayersvillepilots