Students in grades 5-12 have been working hard to prepare for the upcoming musical, Sister Act, Jr. The musical will open this weekend, March 4-6. Tickets are $10 and can be purchased at this link: https://www.vancoevents.com/us...
Meet some of the students working on our production!
Aleena Seeburger, 12th grade
Deloris Van Cartier
Aleena is starring as the lead, Deloris - a sassy young singer who was in the wrong place at the wrong time and now has to hide in a convent. Aleena is a senior who plans to go to Bowling Green State University to major in Forensic Science after graduating from Ayersville. She loves her job working at a comic shop, walking her cat, and being on the Ayersville swim team.
When asked what her favorite part of working on a musical production was, Aleena says, "I love getting a chance to work with my peers I don't normally get to interact with outside of classes."
"I can't wait to perform this musical for the community. I think everyone will love this show because it is humorous, light hearted, and the music is super catchy," Aleena said. "It has such a good story line, it will definitely draw you in while making you laugh"
Lana Culp, 12th grade
Publicity Chair and House Manager
Lana served as our production's Publicity Chair and House Manager. She is the creative mind behind the promotional materials and advertising. As a current senior at Ayersville, Lana plans to attend Kent State University upon graduation, studying Design Exploratory, where she can continue her work in interior design, graphic design, and fashion design.
Rebecca Borgelt, 10th grade
Mother Superior, Costume & Props Coordinator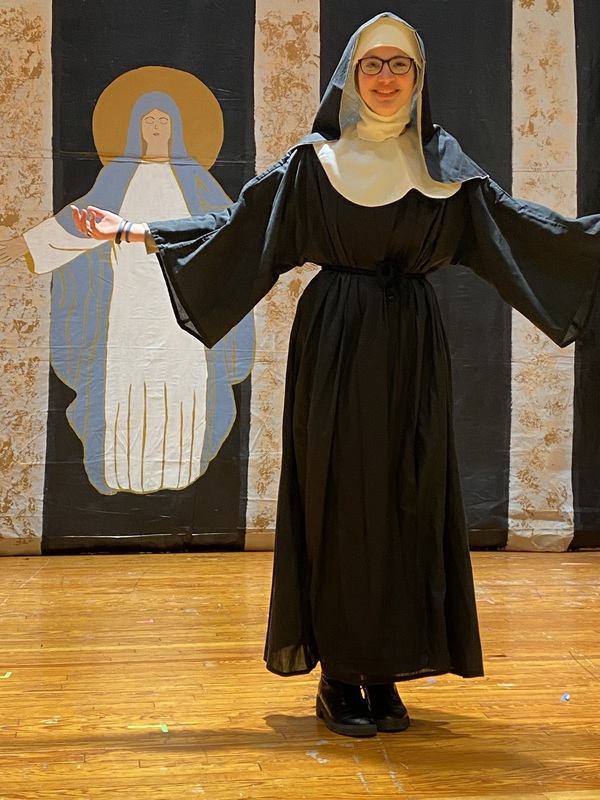 Rebecca is both acting in the musical and serving as a member of our tech crew. She brings to life the up-tight, strict, but loving Mother Superior on stage, and manages the crew of costumers with her co-coordinator, Felicity, in the design, sewing, and altering of the costumes. While not at rehearsals, Rebecca enjoys playing many instruments, such as violin, piano, guitar, and is a member of the AHS choir. She also enjoys trivia, facts, and participating on the Quiz Bowl team.
When asked about why she enjoys being in musicals, Rebecca states that she loves to act "outrageously" and feels at home both on and off the stage at rehearsals. She especially loves the dinner scene, where she gets to be very strict and be an antagonist.
"Everyone has put in so much work into the production," Rebecca said, when asked why people should see the musical. "It's a such a fun show, and very interesting to watch."
Autumn Osborne, 10th grade
Stage Manager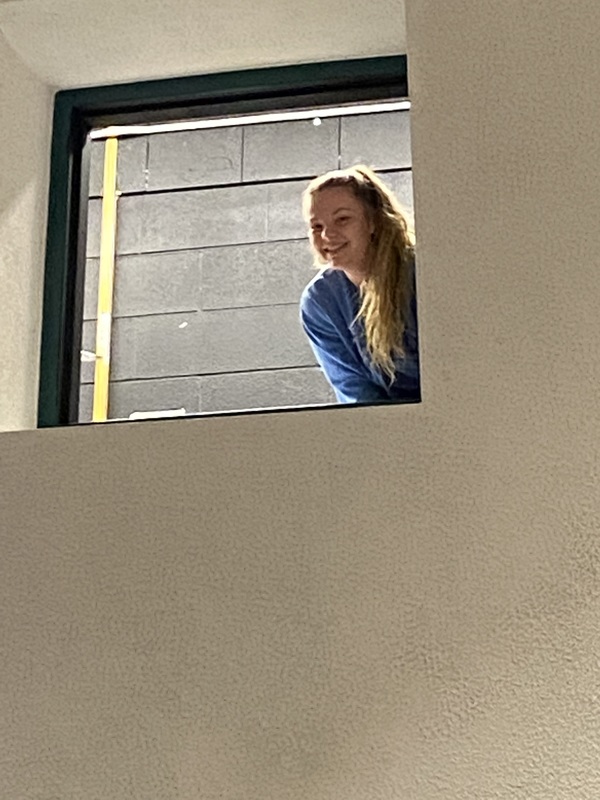 Autumn serves as the Stage Manager for this production - a role Ayersville Theatre has not seen in several years. She has attended almost every cast and crew rehearsal, serving as the person who is most familiar with the show. During the production, Autumn will be calling the cues and making sure everything runs smoothly on and off the stage. When not at rehearsals, Autumn enjoys playing softball and golf.
Autumn says she is very excited to see everyone's hard work pay off. She can't wait to see the results of all the months of preparation and rehearsal.